Published on Amex Essentials, 2022
Few traditions are more essential to and beloved by communities across Mexico than their local markets and open-air bazaars. Most commonly known as tianguis (from the Nahuatl word tiyānquiztli), markets are the place to go to find everything from beautiful antiques to handmade crafts, clothing and books, as well as spices, fruits, vegetables and delicious culinary specialties.
While it's true that traditional markets have been impacted by the unstoppable spread of supermarket chains and department stores in recent decades, these markets still remain vital to the Mexican economy and the preservation of local culture. Here, we look at some of the most vibrant and important markets around the country, not to be missed on any visit to Mexico.
Artisan Markets: Keeping Traditions Alive
Note: Avoid bargaining. The practice of forcing artisans to lower their prices in order to find buyers only increases the economic hardship that many of them are already facing, and harms their ability to continue creating. As a result, experts and cultural activists are calling for the eradication of bargaining practices at artisanal markets.
Mercado de Artesanías in Metepec
Metepec's legacy of beautiful clay creations, fired at a low temperature, dates back several generations – and this market is the place to find such traditional pieces of pottery, ranging from practical everyday objects to decorative pieces. The famous Arboles de la Vida' ('Trees of Life') are made in this town in the state of Estado de México: intricately detailed ceramic artworks representing abundance, fertility and good fortune.
Mercado De Artesanías La Ciudadela in Mexico City
One of the most popular artisan markets in the country, La Ciudadela market is located in the historic centre of Mexico City and is, without a doubt, among the best places to find handmade goods hailing from every corner of Mexico. Hosting hundreds of artisans, here you'll find pieces ranging from clothing and textiles to jewellery, blown glass, baskets, alebrije folk art sculptures and more.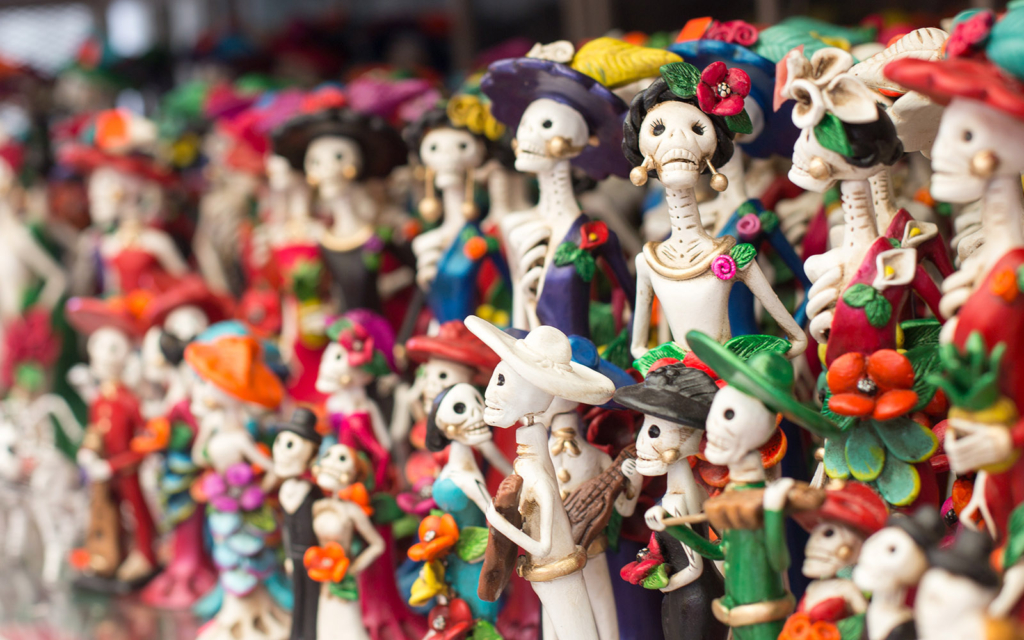 [Photo: Craig Bonsignore/Flickr]
Mercado Valentín Gómez Farías in Morelia
Located in the centre of the beautiful city of Morelia, this is the spot to look for local handicrafts such as traditional wooden toys, carved masks or shoes, hailing from the state of Michoacán along the Pacific coast in the country's southwest. It's also known for peddling the typical artisanal sweets of the region, including cajeta (a kind of dulce de leche), glorias (caramelised candies made with goat's milk) and morelianas (traditional cookies), as well as candied fruits, sweet wafers and ates (a type of quince candy). Also, near the market you'll find Michoacán's Casa de las Artesanías, a museum, exhibition space and shop recounting the area's handicraft history and showcasing the work of today's artisans who are carrying on the tradition.
Huizache in Oaxaca
Run by a local artisans' collective, this space in the city centre of Oaxaca presents works by more than 70 families of Oaxacan artisans, curating a diverse selection of products representing the many creative traditions of the state. Here you can find clothes, rugs, bags, hammocks, embroidery, alebrijes, jewellery, tins, pottery and more. Culinary products such as chocolate and mezcal are also available.https://www.instagram.com/p/CWgLQLWN0BT/embed/?cr=1&v=14&wp=966&rd=https%3A%2F%2Fwww.amexessentials.com&rp=%2Fbest-markets-in-mexico-handicrafts-food-antiques%2F#%7B%22ci%22%3A0%2C%22os%22%3A3402.199999999255%2C%22ls%22%3A2848.699999999255%2C%22le%22%3A2919.199999999255%7Dhttps://www.instagram.com/p/CWlfJFSv-hh/embed/?cr=1&v=14&wp=966&rd=https%3A%2F%2Fwww.amexessentials.com&rp=%2Fbest-markets-in-mexico-handicrafts-food-antiques%2F#%7B%22ci%22%3A1%2C%22os%22%3A3434.800000000745%2C%22ls%22%3A2848.699999999255%2C%22le%22%3A2919.199999999255%7D
Mercado de Artesanías de Santo Domingo in San Cristóbal de las Casas
Boasting dozens of vendors, and found between the Templo de Santo Domingo and the Templo de la Caridad, this is easily one of the most colourful spots in this highland city in Chiapas state. Here you can browse textiles made by the local hands that are preserving and propagating their traditions from one generation to the next, creating everything from soft bedding and colourful handbags to cute animal-shaped cloth toys and beautifully embroidered huipils – traditional sleeveless tunics worn by women in the area.https://www.youtube.com/embed/Rf4XtpQMSls?feature=oembed
Antique Markets: Connecting To The Past
Mercado González Ortega in Zacatecas
Housed in a beautiful pink stone building that dates back to the late 19th century, complete with ornate iron columns, this market is located in the centre of the eponymous capital of Zacatecas state. Here you'll find spaces dedicated to the sale of antiques, as well as local sweets, handmade crafts and silver jewellery, which is characteristic of the area.
Mercado de la Lagunilla in Mexico City
In the centre of Mexico City sits one of Mexico's busiest markets: the famous La Lagunilla Antiques Market. It is one of the oldest street markets in the city, with origins that can be traced to pre-Hispanic times. Today, vendors meet every Sunday to sell clothes and food, but also antiques; the selection can run the gamut from artworks to old prints, coins, lamps, hats, jewellery, vinyl records, furniture and vintage appliances. In addition, the Pushkin Garden market, not far from La Lagunilla and close to the famous Roma neighbourhood, is another antique and flea market that takes place on the weekend.https://www.youtube.com/embed/yzQ14Kgj0OA?feature=oembed
El Sitio Antiques Bazaar in Querétaro
The historic city centre of Querétaro is an excellent place to buy antiques.With its characteristic New Spain architecture, this area is full of vintage shops and bazaars – but if it's a market atmosphere you're looking for, head to El Sitio de Querétaro, located in an old house on Venustiano Carranza Street. Here you'll find an array of stalls selling heirloom furniture, old toys and books as well as gadgets, like cameras and watches.
PROMOTION: YOUR INSIDER TIP
Savour the culture and flavour of Querétaro at this secret garden resort, complete with its own vineyard, cigar bar and spa offering Wine Therapy and a Temazcal. Click here to book.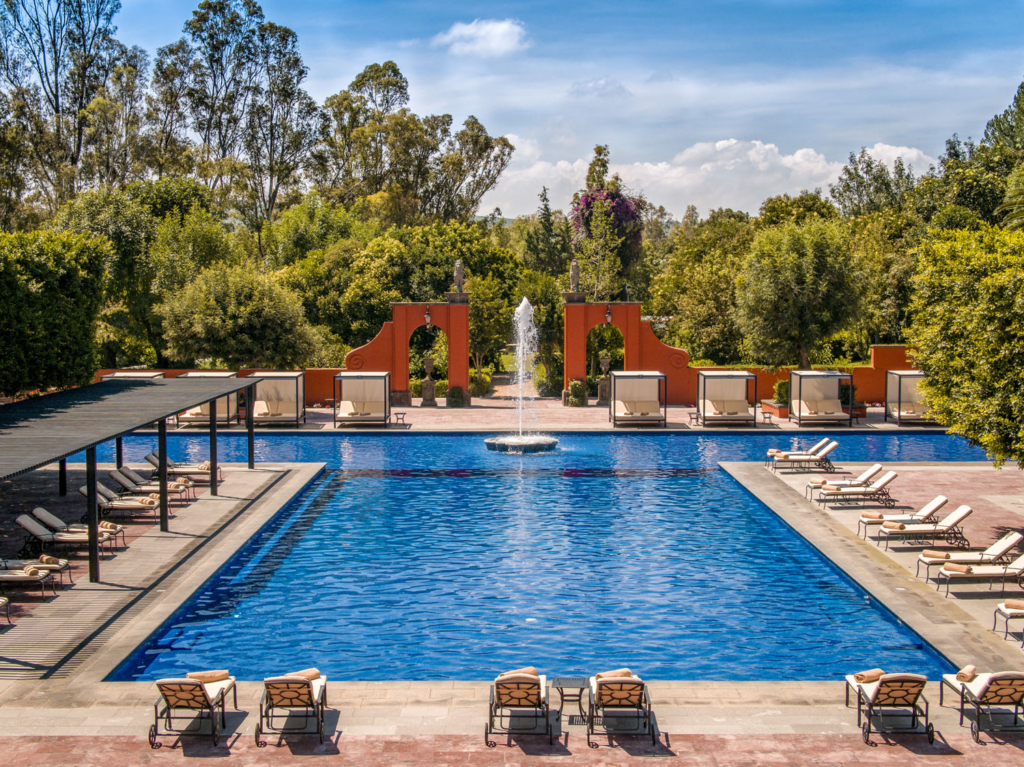 Mercado del Callejón de los Sapos in Puebla
This market gets its name from the Sapos neighbourhood in which it is found, situated at 6 Sur Street, between 5 and 7 Oriente Streets, in Puebla's historic centre. On the weekends, it's the ideal place to root around for vintage furniture and antique treasures. Fancy a stroll? The picturesque area is also a prime place for a good walk, surrounded by colourful colonial houses that have been converted into boutiques, cafés and restaurants.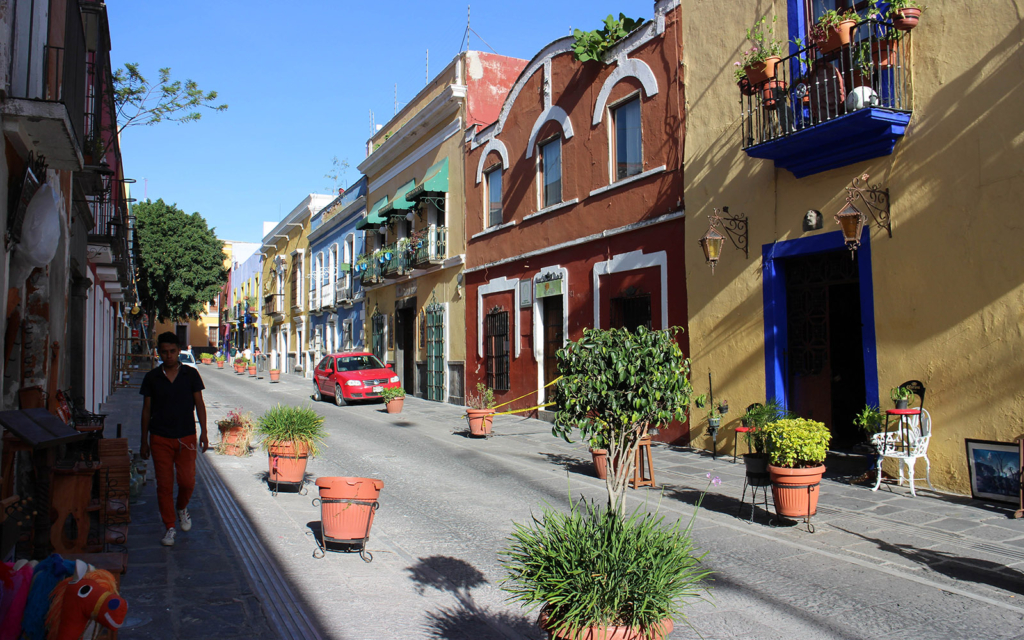 [Photo: Gildardo Sánchez/Flickr]
Tianguis de los Martes in San Miguel de Allende
The magical city of San Miguel de Allende is a great place to go in search of treasures from the past – and not just in terms of its charming streets. Every Tuesday, the giant Tianguis de los Martes sets up just outside the city centre, featuring tons of vendors peddling everything from food to artisanal crafts. The selection is heavy on everyday items like tools, clothes and toys, but if you keep an eye out, you'll find many high-quality heirloom pieces in the mix. Antique hunters can also check out the city's many bazaars and shops dedicated to vintage items, several of which are located on Ancha de San Antonio Street and in the former La Aurora factory.
Food Markets: An Authentic Taste Of Mexico
Mercado San Juan in Mexico City
One of the most iconic traditional markets in the centre of Mexico City, the Mercado San Juan is chock-full of food vendors of all stripes, from fruit and vegetable stands to butchers and ice cream shops. However, it is perhaps best known as the place to find gourmet and exotic foods from Mexico and abroad, ranging from ostrich meat to European cheeses and edible insects, a big part of the pre-Hispanic diet. A mecca for true foodies, here you can expect to rub shoulders with some of the city's finest chefs on their daily market runs.https://www.youtube.com/embed/w6Zz1s3HdXg?feature=oembed
Mercado Abelardo Rodriguez in Mexico City
Not quite so well-known, but a good starting point for fans of Mexico's muralism art movement, the Abelardo Rodriguez market in the city centre was built in the 1930s. Here, among the stalls showcasing vibrant, fragrant foods and practical household items, visitors can catch a glimpse of the many different murals made by artists of various nationalities during the 20th century, including Antonio Pujol, Pedro Rendón, Ramón Alva Guadarrama, Grace Greenwood, Marion Greenwood, Raúl Gamboa and Isamu Noguchi.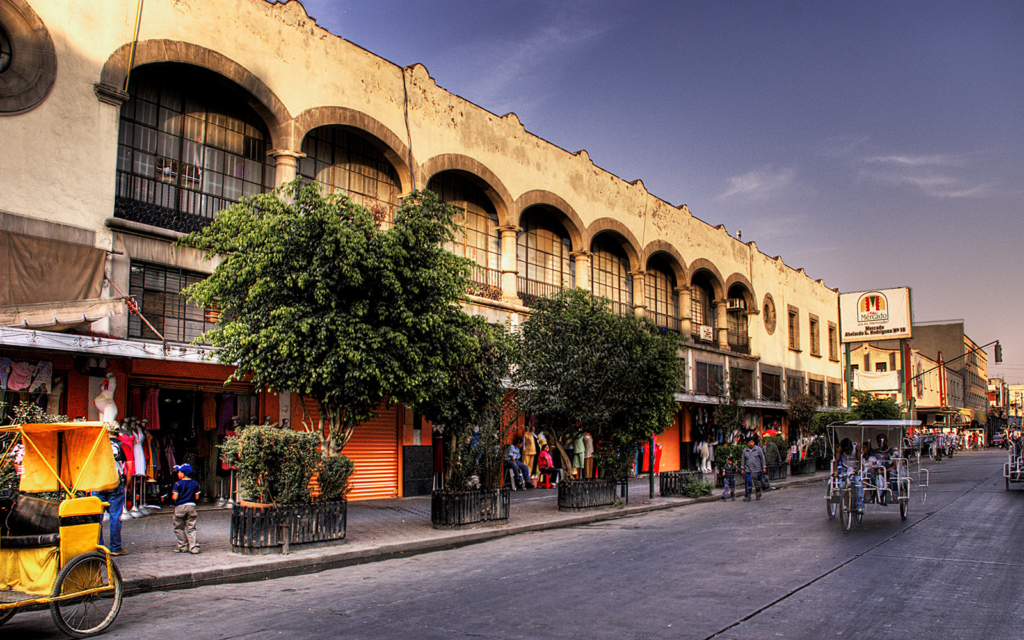 [Photo: Eneas De Troya/Flickr]
Mercado Sobre Ruedas in Malinalco
About an hour from Mexico City, Malinalco is a town with pre-Hispanic origins in the mountains of the State of Mexico. Here a mercado sobre ruedas – a type of roving market that's very important for the economy of the area – is installed in the town centre on Wednesdays. Representative of Mexico's traditional tianguis markets, the producers sell freshly harvested fruits, vegetables and flowers, as well as sweet bread and handmade tortillas. You can also find leather goods and hand-carved wooden utensils, such as spoons and bowls. If hunger strikes, head for the food stalls serving up warm tacos, quesadillas and tlacoyos, an addictive pre-Hispanic specialty.
Mercado Alternativo de Tlalpan in Mexico City
True to its name, the 'Alternative Market of Tlalpan' is unique among the city's major markets. Founded in 2013, the organisers work with small farmers and producers who all share the same clear values: local products, cultivated with a fair trade ethos and a respect for the environment. The market is held on Sundays on the esplanade of Bosque de Tlalpan.https://www.instagram.com/p/CKUSrfsj7wb/embed/?cr=1&v=14&wp=966&rd=https%3A%2F%2Fwww.amexessentials.com&rp=%2Fbest-markets-in-mexico-handicrafts-food-antiques%2F#%7B%22ci%22%3A2%2C%22os%22%3A3659%2C%22ls%22%3A2848.699999999255%2C%22le%22%3A2919.199999999255%7Dhttps://www.instagram.com/p/CO0NNVcnWFM/embed/?cr=1&v=14&wp=966&rd=https%3A%2F%2Fwww.amexessentials.com&rp=%2Fbest-markets-in-mexico-handicrafts-food-antiques%2F#%7B%22ci%22%3A3%2C%22os%22%3A5570.5%2C%22ls%22%3A2848.699999999255%2C%22le%22%3A2919.199999999255%7D
Mercado Hidalgo in Guanajuato
Built prior to the Mexican Revolution, this market in the famous city of Guanajuato – best known for its history and architecture – is the place to purchase fruits, vegetables and seeds in bulk, as well as piñatas and household items. A classic example of a Mexican market, it is also interesting for its voluminous architecture; the building was originally intended to be a railway station. It was designed in the Porfiriato period and takes cues from French-style architecture of the time, with an iron structure, large windows and a high domed ceiling.
About Eréndira Derbez
Eréndira Derbez is an art historian and illustrator, specializing in Mexican art and gender. She is the co-author of No son micro. Machismos cotidianos (Random House, 2020) and the co-founder of Estudio Plumbago, a design and illustration studio based in Mexico City. She currently lives between Mexico City and London.